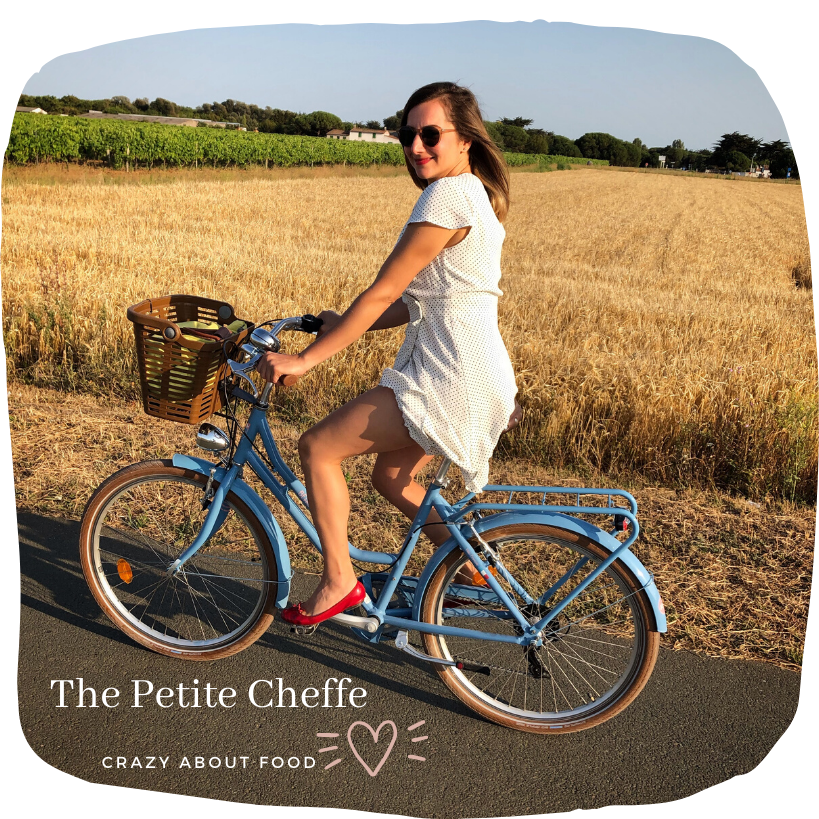 Who is The Petite Cheffe
Hi! I'm Dima. I'm the cook, photographer, editor and food lover behind The Petite Cheffe. I focus on creating simple, approachable and delicious recipes driven by seasonal produce and whole foods, with the home cook in mind.
You don't have to cook fancy or complicated masterpieces – just good food from fresh ingredients. In cooking you've got to have a what-the-hell attitude.

Julia Child
How it all began
From the heart of my charming Parisian apartment, The Petite Cheffe came to life during the current pandemic. What began as a little place on the web for me to share my love of cooking beautiful, delicious food soon became much more than a hobby. The pandemic affected my work tremendously. I am a professional opera singer whose major roles for this year have been either rescheduled or cancelled. Having just heard about a major cancellation, I found myself in my tiny kitchen, setting up a selfie stick, weighing it down with a couple of dumbbells and started shooting everything I was making for Mr Petite Cheffe and myself. I was improvising with whatever I had in the fridge. That's when I realized how simple it was to cook delicious, healthy meals with seasonal and few ingredients. And that's when I decided to share my experience and my love for fresh, healthy recipes with you all
The Petite Cheffe's role models
I grew up in a family of amateur cheffes. Starting with my mother Souha, my tete Nelly and my aunt Adèle. Although we very often consult one another for family recipes, yet we seem to manage to each have her own culinary style 🙂 I am, what you might call, a patchwork of traditional recipes, with a little sophistication that I inherited from my mom and a hint of spice that I get from my aunt
In my family, when we are gathered around the table we can't help but talk about other meals, past and present. Food is always only a sentence away.

The petite cheffe
My food philosophy
I believe that what you eat is what you are. A firm environmentalist, I try to buy my produce consciously, supporting local farmers, as much as possible as well as consuming seasonal fruit and vegetables. I started following the Meatless Monday trend beginning of last year and must admit it has changed the way I appreciate food. I am proud to say that my meatless Monday happens not only on Mondays but several times a week 🙂 We all know that the impact of global warming is more real than ever, we also know that by eating more consciously we have the power to halt the rapid deterioration of our planet, so then, what are we waiting for? Buy local, minimize consumption of plastic-wrapped goods and reduce meat intake are all simple habits we can adopt together to preserve the planet.
We do not inherit the world from our ancestors, we borrow it from our children

anonymous
My favorite cuisine
I adore to travel, and thanks to my job I get to do a lot of that. I have been lucky to have toured the world a few years back and tasted so many cuisines, so it's very tough to answer this question with just one answer, but here are a few of my favorite specialities: Asian cuisine, spices bought throughout my travels always find their way into most of my dishes ;), Italian cuisine, for it's simplicity, freshness and popularity, French cuisine, for it's sophistication and complexity. But the cuisine that takes me back to my childhood is the one I grew up with, the Middle Eastern cuisine <3
The Petite Cheffe would like to thank
My mom, for having taught me that there's absolutely no place like.. the Kitchen. My Bestie, Manar, for her continuous support and cooking tips! You're the real cheffe! My brother, Nadim, for having believed in me and having taught me how to make the best, runny omelette ever! My cousin, Rama, for her advice and guidance and for having been there when The Petite Cheffe first started. My brother from another mother,  Wonho, for having pushed me through my doubts, and finally, to Mr Petite Cheffe, Mickaël, for having taught me everything I know about photography, editing and blogging, for always believing in me and having told me that trials are not meant to make us fail but to see how far we can fly and for having been so patient and loving even when the plate arrived cold at the dinner table… Merci <3