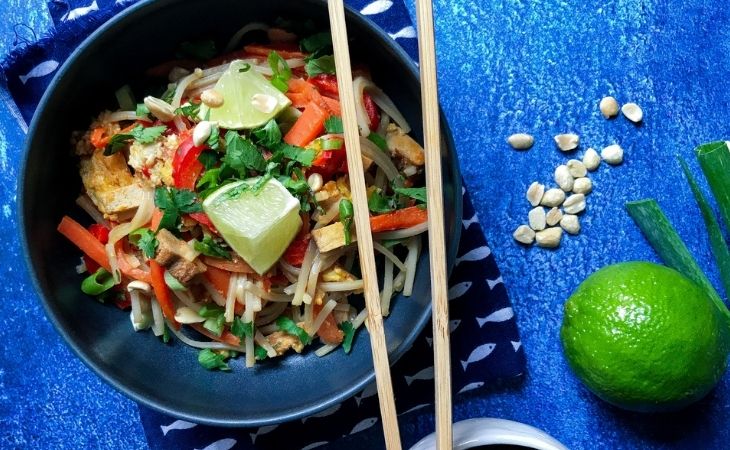 Who on earth does not LOVE asian cuisine? Rich in colour, texture and spices, swinging between the sweet and the sour… mmmm just describing it makes my mouth water
In my pantry, I always have the necessary ingredients to stir up an asian dish, but the one recipe I most recently discovered, (and don't ask me WHY it had taken me so long to try) was the Pad Thai Recipe!! 
You can use any vegetables you have/like. I used carrots and bell peppers because I love the vibrant colours they added to my dish, plus they are in season and have numerous health benefits. This being said, do feel free to add more veggies. The sauce will do the trick, trust me.
At first you might think, gosh, those are way too many unknown ingredients (for the sauce) but trust me, invest in them, you can easily preserve them and use them again for this specific recipe or others to come 🙂
For full recipe instructions, follow the link in my Bio
Ingredients
2 Limes
2 Scallions
200g Tofu (I used smoked)
1 Bell Pepper
3 Carrots
1 pack Rice Noodles
3 tbs Fish Sauce
1 tbs Soy Sauce
2 tbs Rice Vinegar
5 tbs Brown Sugar
2 tbs Peanut Butter
Sesame oil 
2 Garlic cloves
2 Eggs
Peanuts for garnish
Fresh Coriander for garnish
How to Make It
Step 1
Wash the Bell Pepper and Carrots
Step 2
Peel and thinly slice the carrots
Thinly slice the Bell Pepper
Step 3
Chop the Lime into 4 equal parts
Chop the Scallions and set aside
Chop up the Tofu into cubes
Step 4
Cook the Rice Noodles according to the instructions on the packaging, until they are soft then rinse and drain
Step 5
Mix all the sauce ingredients together, until you reach a creamy consistency and set aside for later
Step 6
Into a hot skillet, drizzle some Sesame Oil
Add 2 crushed cloves of Garlic and stir for a minute or so
Step 7
Add in the Carrots and the Bell Pepper, cover and cook for 5 minutes
Step 8
Add the Tofu into the centre of the skillet then stir 
Step 9
Make some space in the skillet by pushing all ingredients to one side, add the eggs and scramble them, gradually integrating them into the vegetables
Add the Noodles, Peanuts and the Sauce and mix all together
Step 10
Serve into a hollow bowl, garnish with the Lime slices, some extra Peanuts and some freshly cut Coriander
Share this recipe with a friend