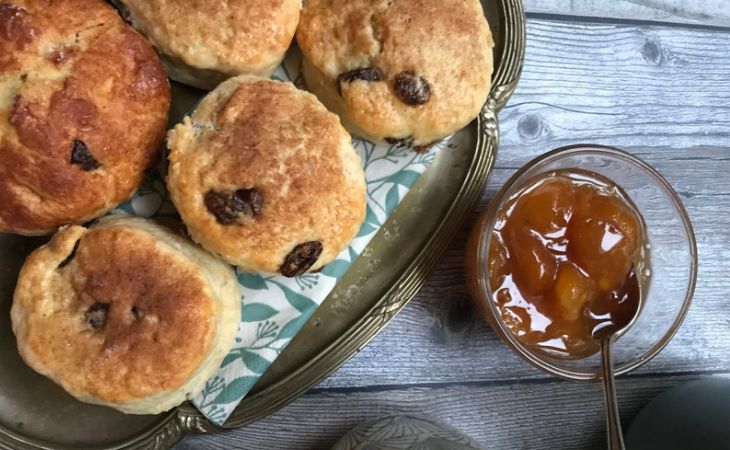 I am ever so happy to being back to cooking and baking! Sharing with you this iconic english teatime recipe! Easy and quick to make! Follow my step by step recipe and enjoy your scones with your choice of marmelade or jam! And please DON'T go easy on the butter 🙂 
Ingredients
3 cups (450 g) all-purpose flour
¼ cup (50 g) granulated sugar
4 tsp (12 g) baking powder
½ tsp (2.5 g) salt
2 tsp (10 mL) finely grated citrus zest (lemon, lime or orange)
¾ cup (175 g) cold butter, cut into pieces
¾ cup (175 mL) cold milk (1% or 2%)
1 large egg
1 large egg yolk (reserve the white for brushing the scones)
½ cup (125 mL) add-ins (**see note below)
cinnamon sugar for sprinkling
How to Make It
Step 1
Preheat the oven to 375 °F (190 °C) and line 1-2 baking trays with parchment paper.
Step 2
Add all the dry ingredients into a large mixing bowl.  Add the grated orange zest and mix in.  Add the butter and crumble using your clean fingers until no large pieces are visible and the mixture is a rough, crumbly texture.  Use your hands to rub the mixture between your palms to flatten any butter pieces – this helps to make the scones flaky.
Step 3
In a separate bowl, whisk the egg, egg yolk and the milk together.  The add into the flour mixture all at once.  Use a spatula or wooden spoon to mix everything together just until it starts to come together but it is still rough and crumbly.  Turn everything out onto a clean surface and sprinkle the add-ins overtop.  Use your hands to bring the dough together, and to flatten and fold the dough over a few times 
Step 4
Flatten the dough using a rolling pin, to just under 2.5 cm thick and use a cookie cutter (or any glassware) to cut out scones.  Arrange these on the baking tray, leaving enough space between them.  Brush the tops of the scones with the egg white and sprinkle with cinnamon sugar.  Bake the scones for about 18 minutes, until golden brown on the bottom and lightly browned on top. Cool the scones on a rack
The scones are best enjoyed out of the oven.
Share this recipe with a friend