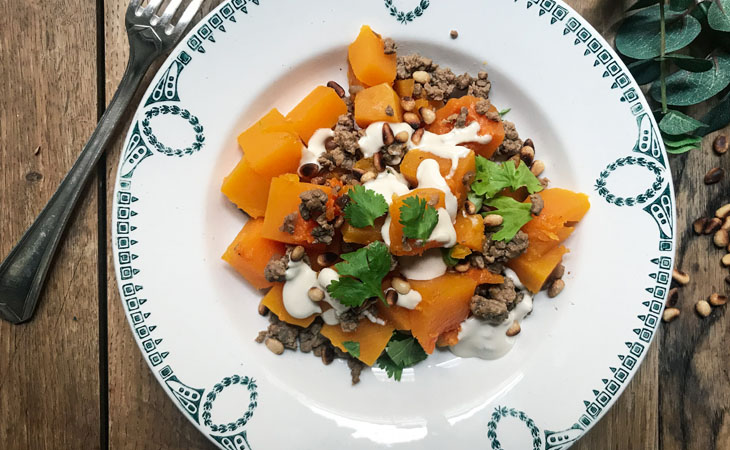 It's that spooky night of the year! The night we all dress up and go to costume parties or stay in and expect lots of kids at our doorsteps for trick or treating! OR, and this is a 2020 special, you might be stuck at home, confined again, just like The Petite Cheffe, in search for the best, heartwarming dish. Luckily this tasty, originally Syrian recipe, has the power to make you forget all about the lock down blues! A special thank you to my best friend back in Amman, for having taught me this delicious recipe! Enjoy it with a side of basmati rice! Oh and a very Happy Halloween you all!
Ingredients
1 butternut
2 red onions
500g minced meat
1 L chicken stock
Olive oil
Coconut butter
Twig of thyme
3 tbs Tahini
2 tbs greek yogurt
2 tbs lemon juice
3 tbs water 
Salt & pepper
Grilled pine nuts for garnish
Coriander 
How to Make It
Step 1
Wash, peel and cut the butternut into cubes
Peel and chop the onions finely
Step 2
Into a hot skillet, drizzle some olive oil and add the chopped onions, cook for 2 minutes
Add the minced meat and cook for a further 7 minutes
Step 3
In a large pot, add a tbs of coconut butter then add the chopped butternut cubes and cook for a couple of minutes
Add the thyme and the chicken stock and bring to a boil.
Step 4
Lower the heat to medium and add the minced meat on top of the butternut. Spread the meat to cover the surface, do not mix into the butternut cubes. Cover and cook for 15 minutes
Step 5
In the meantime, make the tahini sauce by mixing together the tahini, greek yogurt and lemon juice. The mixture will thicken at some point. Add 3 tbs of water (or more) and whisk again until desired texture is reached
Season with salt and pepper and set aside
Step 6
Now that the dish is cooked, and the stock fully absorbed, plate it into a hollow dish, drizzle the tahini sauce and garnish with some grilled pine nuts and a few fresh coriander leaves
Enjoy with a side of Basmati rice!
Did you know that ?
Butternut squash are called that because of their buttery, nutty flavour. Although Pumpkin is regarded as a fruit, Butternut is a vegetable.
Everything in the butternut is edible, including the skin and the seeds
Grill the seeds for a few minutes in the oven and enjoy as a crunchy topping to your soups and salads
Share this recipe with a friend