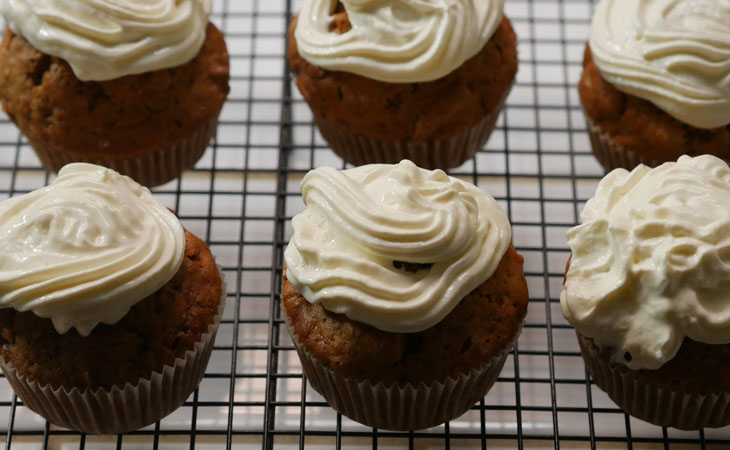 My mom recently found this recipe in my grandma's archives. And I remember it being one of the tastiest carrot cake recipes I had ever had!! Sharing it with you, on this sunny Friday morning, to help you jump start your weekend 🙂 Sharing this recipe also means keeping my loving grandma's memory alive!
Ingredients
2 cups flour
1 1/2 cup sugar
1 tsp baking soda
1 1/2 tsp baking powder
1 tbs cinnamon
A pinch of salt
4 eggs (5 if eggs are small)
A pinch of vanilla
1 cup corn oil
3 cups grated carrots
1 cup walnuts
Icing (optional):
200g cream cheese
1 tbs powder sugar
1/2 cup whipped cream
How to Make It
Step 1
Pre heat oven to 190°C
Step 2
Mix the eggs, vanilla, sugar and oil.
Step 3
Gradually add in the flour, baking soda and baking powder. Add the cinnamon and salt
Step 4
Add in the grated carrots and chopped walnuts
Step 5
Line a muffin tray with cupcake paper
Fill the cups 3/4 full
Step 6
Bake for 45 minutes at 190°C
Step 7
For the icing (optional):
Prepare the icing by thickening the whipped cream then adding it to the cream cheese and sugar. Mix well
Step 8
Pour the icing into a piping bag and refrigerate for an hour
Step 9
Once the cupcakes are done, set aside to cool before icing
Add the icing to the cooled cupcakes and enjoy chilled
Share this recipe with a friend