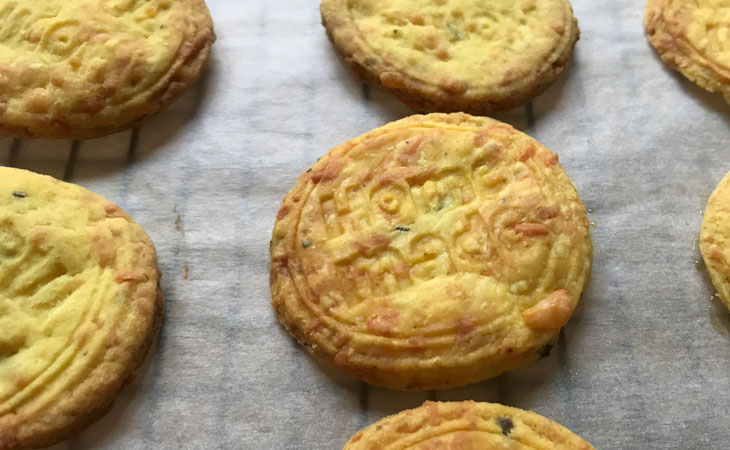 Make those easy apéritif bites as it's always aperitif o'clock somewhere around the world! Simple and oh so healthy, easily replace the store bought, fatty and sweetened crisps!
Ingredients
Makes about 20 cookies
200gr flour
125gr butter
80gr emmental cheese
1 egg
1 tsp salt
1 tsp ground curcuma
Herbes de Provence (optional)
Pepper
How to Make It
Step 1
In a large bowl mix the flour, salt, ground curcuma herbes and pepper
Step 2
Grate the emmental cheese and add to the dry ingredients
Step 3
Add in the butter (cubed) and rub into the four mixture until fully combined
Step 4
Add the egg and mix together
Step 5
Gather the dough into a bowl, cover with cling film and refrigerate for 1 hour.
Step 6
Remove the dough from the fridge and cut into four equal parts
Roll dough onto a floured surface (about 1 inch thick) and cut into circles
Optional to decorate by stamping the biscuits with a cookie stamp (if available)
Step 7
Cook for 15 to 17 minutes in the oven at 200°C
Serve once cool
Music by Bensounds
Fun Facts:
L'apéro: it's not a happy hour, not a dinner, not a barbecue. But what is it?
L'apéro is the part of the day when the French stop doing what they're doing and convene for a drink over small plates. It's around the time of day when shadows get longer and the sun starts to set. It's after work, it's before dinner, before a party, before a dinner party — sometimes it is the dinner party (un apéro dinatoire). It's always with company; no one is alone at a bar nursing a Pilsner for l'apéro. Company is what makes it a familial ritual: the day winds down and there's nothing left to do but have good food and drinks with friends.
Source: Frenchly
Share this recipe with a friend