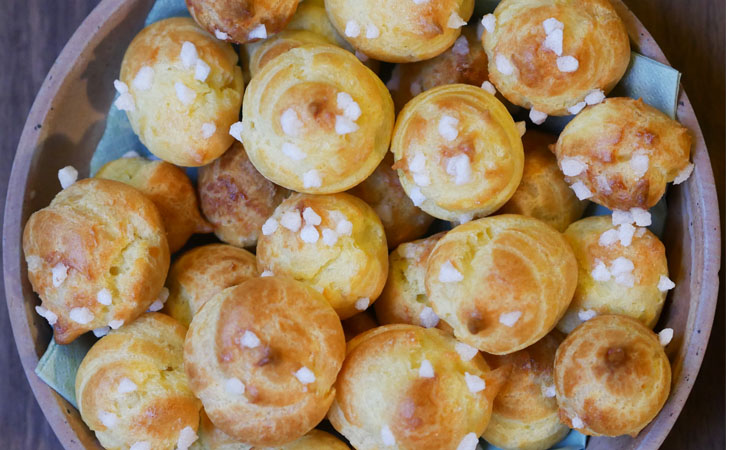 My favorite thing to do on a Sunday morning, is go down to my local baker and along with freshly baked croissants, I always grab a few Chouquettes! The one thing I wasn't aware of was how easily I could make the chouquettes at home! Sharing with you another iconic french recipe that is sure to please and impress your family and friends!
Ingredients
120g flour
10cl milk
10cl water
10g sugar
Pinch of salt
80g butter
4 eggs
How to Make It
Step 1
Bring the milk, water and sugar to a simmer and add the butter and melt
Step 2
Remove from heat and add the flour in one go and whisk very vigorously with a wooden spatula and make sure no lumps are formed
The resulting dough is called a panada. Dry off the panada on the heat, stirring with a wooden spatula, until the paste comes away from the sides of the saucepan and forms a ball
Step 3
Remove from heat and leave to cool for 5 minutes
Step 4
Add the eggs one at a time, stirring energetically until the choux pastry is ready to use
Step 5
Scoop the preparation into a piping bag fitted with a plain nozzle
Step 6
Pipe the choux buns onto a baking tray, use either a baking anti-stick sheet or wax paper
Step 7
Sprinkle some pearl sugar on top

Step 8
Bake at 180°C for about 20 minutes
The choux buns should be puffed and golden
Serve cool
Did you know:
A chouquette is a traditional sweet French pastry that is often served as an afternoon snack. Made from a simple dough, a chouquette can be topped or filled with a number of ingredients. No matter what flavors are used, the baking process is considered the most important part of making this delicacy.
Source: The Hungry Traveler Blog
Share this recipe with a friend