Christmas Chocolate Truffles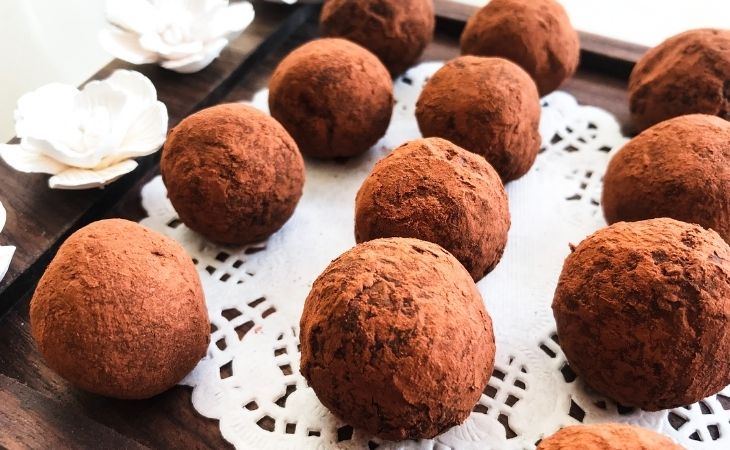 Tis the season to be jolly! And my are there incredibly delicious recipes to share during this festive season! Back home for the holidays, mom and I are going to be sharing with you family specials throughout the month of December! So, with no further delay, check out our delicious Chocolate truffle recipe! It is the perfect treat to enjoy throughout the month of December! 
Ingredients
300g Dark chocolate 70%
1 tbs Full fat milk
100g Butter
2 Egg yolks
40ml Heavy cream
2 tbs Whisky (optional)
125g Icing sugar
How to Make It
Step 1
Start by melting the chocolate and 1 tablespoon milk on a bain marie
Step 2
Add the butter and mix together
Step 3
Add the egg yolks and blend together
Step 4
Add the cream and whisky. If you prefer Rhum, it will taste as delicious, and if you prefer them alcohol free, that also works fine
Step 5
Add in the icing sugar and whisk vigorously for about 5 minutes, allowing the ingredients to cook together
Never let the chocolate boil though!!
Step 6
Refrigerate the ganache for at least 2 hours (I left mine overnight)
Step 7
Using a small spoon or an ice cream scoop spoon, scoop out some chocolate and using both hands, mould into balls
Step 8
Place on a clean surface and repeat until you run out of ganache
Step 9
Finally, roll the chocolate balls in coco powder and place on a plate and refrigerate to enjoy them chilled and firm
Merry Christmas 🙂
Did you know that:
Truffles are celebrated on the 2nd May of each year. It is said that people celebrate that day by eating chocolate truffles!
Chocolate truffles are confectionery sweets made primarily of a mixture of cream and chocolate, known as 'ganache'.
The term 'chocolate truffle' is derived from the edible tuber fungus known as a 'truffle', which shares a similar appearance to the confectionery.
Despite its dubious origins, chocolate truffles are said to have originated in France, possibly existing as early as 1895, and created by Louis Dufour. This being said and while its history is uncertain, one tale of the chocolate truffle invention points towards the inventor as master chef Auguste Escoffier, from France, or one of his young workers, who in the 1920s, accidentally placed heated cream in a bowl of chocolate.
Share this recipe with a friend