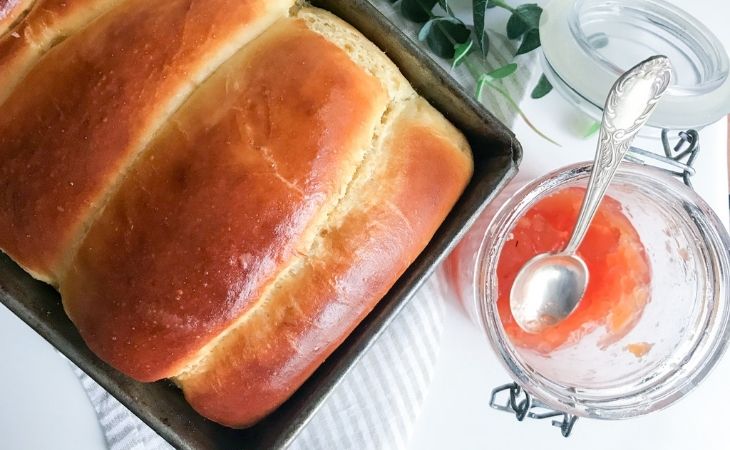 Easter is here, and it comes baring beautiful blue skies and warm lengthy days! One of my childhood memories, celebrating easter morning back home, is the fresh sweet smell of freshly baked brioche bread. This recipe  comes in many shapes and forms, from the traditionally braided Italian easter bread, to the English fluffy hot cross buns. I chose to share with you a basic, easy yet extremely tasty version of my very own Easter Brioche Bread!  Feel free to shape yours as you see fit, but most importantly don't forget to have yourself a very Happy Easter
Make sure to use either a stand mixer or make this bread by hand. Do not try to use handheld mixer, because the motor will not be able to handle the dough. 
 * Flour humidity and measuring spoons vary greatly. if you feel that the dough needs to be firmer, start by adding extra 1/4 cup at a time.
Ingredients
63ml warm Milk
1 tsp dry active yeast
300g Flour
58g Sugar
1 tsp Salt
3 Eggs
113g Butter (at room temperature)
For the egg wash you will need
1 tbs Water
1 Egg (for the egg wash)
How to Make It
Step 1
Start by add the dry active yeast to the warm milk (make sure the milk isn't too hot as the high temperature might kill the yeast) then set aside
Step 2
To a stand mixer, using the Flat Beater paddle, add the flour, sugar and salt and mix together
Step 3
Gradually add in the milk and yeast mixture as you continue to mix
Step 4
Add in the eggs and mix on low for about a minute and until everything gets combined
Step 5
Now exchange the Flat Beater paddle with a Dough Hook and kneed the dough for about 10 minutes, stopping the mixer occasionally to scrape down the dough
Step 6
Add the butter cubes (at room temperature) and kneed the dough for about 15-20 minutes
Step 7
Cover the dough with a kitchen towel or plastic wrap and leave to rise for about 1 hour
Step 8
After an hour, remove the plastic wrap and punch the dough down, then cover it back again and set in the fridge to rise and harden for 4 hours (I left mine overnight) this is called proofing the dough
Step 9
After the second proof, take the dough out onto a floured surface and cut it into 6 equal parts 
Shape each part into a rectangle then roll them
Place them into an oiled loaf pan, cover and set aside to rise for about 3 hours
Step 10
Prepare an egg wash by combining 1 tbs water to an egg, whisk together
Brush the egg wash to the now risen loaf 
Step 11
Bake the loaf at 175°C for 30 minutes
Let the loaf rest for 5 minutes before removing it from the pan
Store in an airtight container or ziplock bag at room temperature
Enjoy with your choice of homemade jam and have yourself a very Happy Easter 
Share this recipe with a friend