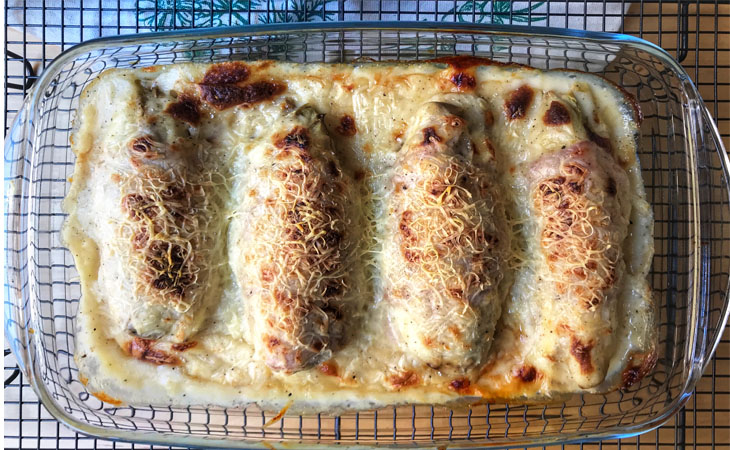 This Endives au Jambon recipe is so delicious. On the other hand, we rarely enjoy the taste of bitterness in our daily cuisine, yet some research suggests that bitter food may help regulate hunger and quell cravings for sweets. These foods are plant-based and packed with vitamins and minerals as well as fiber, which makes them super nutritious! Delve into this delicious Endive gratin recipe if you're not afraid of a touch of bitter in your mouth!
If, on the other hand, you're not very big on bitterness, try blanching the endives in boiling water for a few minutes, this trick will lessen the bitterness and bring out the sweetness in the endives.
This recipe requires homemade béchamel, which we made together last week. So don't hesitate to refer to it in the How-To chapter of this blog.
Ingredients
4 endives
4 slices of ham
4 long slices of Camembert cheese (8 short slices)
Some Emmental cheese for grating 🧀
1 tbs honey 🍯
2 tbs cider vinegar
For the Béchamel
45g butter
45g flour
45cl milk🥛
Ground nutmeg
Salt & pepper
How to Make It
Step 1
Pre heat the oven to 200°C
Step 2
Wash and towel dry the endives
then half the endives
Step 3
Add some olive oil to a hot skillet and then lay out the endives halves face down and cook for 5-7 minutes
Step 4
Flip them onto the other side and deglaze with the mixture of cider vinegar and honey and resume cooking for another 5 minutes
Step 5
In the meant time, prepare your béchamel by melting the butter then adding the flour, whisk vigorously and dry the roux for about 2 minutes (never stop whisking)
Add the milk gradually as you continue to whisk and once your béchamel holds. Season with nutmeg, salt and pepper and stir
Step 6
Place a ham slice on a plate, add one 1/2 endive, add the Camembert cheese and top up with the matching endive half Wrap the endive tightly in a slice of ham
Step 7
Place the wrapped and stuffed endives into an oven tray and drizzle with a generous amount of béchamel
Grate some Emmental cheese on top and bake for 20 minutes (3 extra minutes to broil)
Music by Bensounds
Nutritional Info: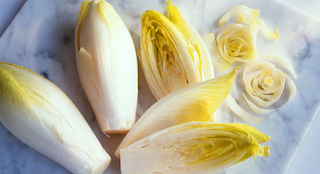 Benefits of Endive include low caloric food that helps with weight loss, abundance of vitamin k, helps regulate blood sugar levels and prevent diabetes, ensures good bowel movements, helps promote a healthy pregnancy, oral issues can be avoided, lessens the severity of insomnia, helps in improving the eyesight, aids in recovery for anorexia, detox your liver with an endive salad, manages your psychological health, and helps in preventing the gallstones.
Source: Be Green, Stay Green
Fun Fact:
Endive Gratin, also known as Endives au jambon, chicon gratin or roulades d'endives is a traditional recipe from Belgium and Nord pas de Calais region in the North of France. Endives grow massively in that region and this recipe was developed by peasants. It later became a richer dish when béchamel was added for the gourmandise factor, and the Jambon (ham) was added for the protein.
Source: Perle du Nord
Share this recipe with a friend