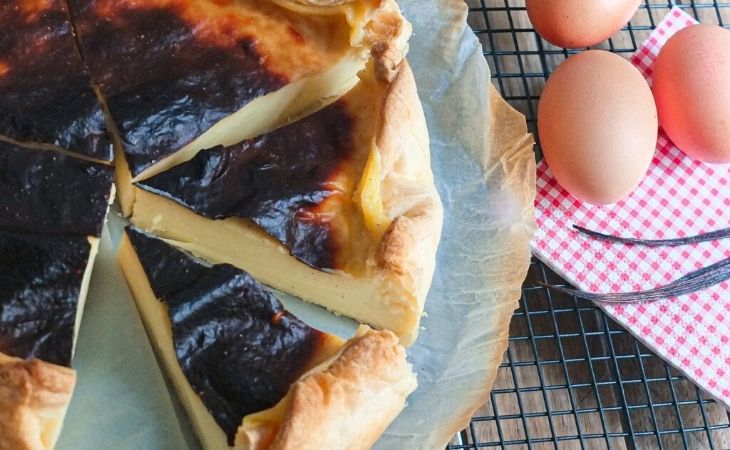 Hello January! Hello 2021! How about kicking off the year in style with a Sweet Recipe! This Flan is sure to please! A must try while roaming the streets of the French capital, where is it most commonly known as the Flan Boulanger or Flan Parisien! Custard based, it can be enjoyed as a breakfast treat or for an afternoon tea gathering!
May this year bring sweetness to our hearts and may it see us reunited over delicious dinner tables! Until then, continue to be safe and mask up!
Ingredients
1 Puff Pastry
1L Full fat milk
2 Vanilla pods
3 Eggs
160g Sugar
100g Corn flour
2 Vanilla pods
How to Make It
Step 1
Pre heat the oven to 180°C
Step 2
Into a medium pot, pour the milk and the vanilla pods, then bring to a simmer over medium heat about 10 minutes
Step 3
In the meanwhile, in a separate bowl prepare the custard batter by mixing together the eggs and sugar the add the corn starch and continue to mix well
Step 4
Pour 1/4 cup of the hot milk mix onto the custard batter and mix immediately
Step 5
Then add the custard batter back into the pot and whisk vigorously until the mixture thickens
Step 6
Place the puff pastry into a circular cake mould, trim the edges and dock the pastry
Step 7
Pour the thick custard into the cake mould then bake for 40 minutes
Step 8
Set aside to cool
Make sure you wait until the cake has entirely cooled down before cutting into it 🙂
Did you know that ?
To enjoy this delicious recipe, one needn't be in France only. This recipe can be found in all 4 corners of the globe. When in Portugal, you can enjoy the popular breakfast treat called "Pastel de nata", or the "Dàn tà" when in China, or the "Custard Tart" when in the UK and finally the traditional "Flan" when in France!
This being said, the earliest trace of this recipe dates back to 13th century in a small city in the north of France called Amines. The dessert then went by the name "Dariole".
The recipe varies depending on where it comes from, cooked in individual portions with a lot of sugar (for the Portuguese version) or with condensed milk (when it comes to the Chinese version) whereas it is enjoyed as a whole tart, to be shared with friends and family, both in France and in the UK.
…
Share this recipe with a friend