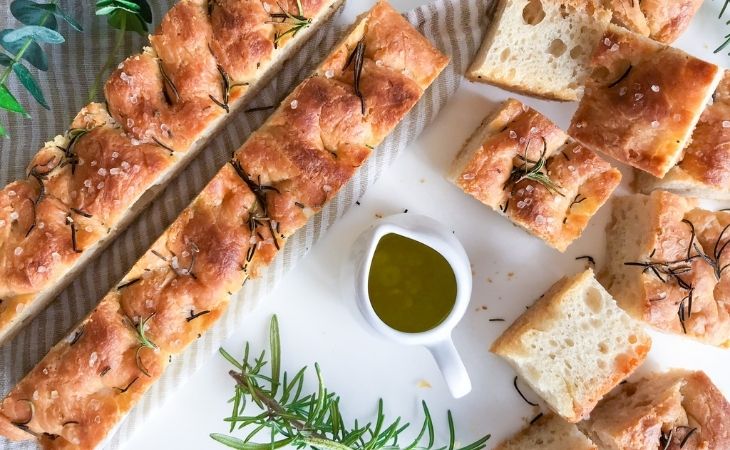 What I most love about this season, is not only the sweet bakes but also the smell of freshly baked bread! And when this bread can be homemade, what more can one ask for! This is by far the best, fail free, Focaccia Bread recipe out there! The one things that you need to equip yourself with though is some patience as it does take quite a while to make! But, if you're half as organized as myself, you would start the recipe on the eve of the day you wish to make it! For when it comes to the ingredients, they're simple and few! So head on down to check the recipe in full! And happy baking!
Ingredients
4 cups (512 g) Flour
2 teaspoons (10 g) Salt
2 teaspoons (8 g) instant Yeast
2 cups (455 g) lukewarm water, made by combining 1/2 cup boiling water with 1 1/2 cups cold water
Olive oil for greasing
Rock sea salt
Fresh Rosemary
How to Make It
Step 1
Into a large bowl, add the flour, salt and yeast and whisk together
Step 2
Add the water, and using a spatula, fold the dough until a sticky dough ball is formed
Step 3
Rub the surface of the dough lightly with some olive oil, this will prevent it from drying out
Step 4
Cover the bowl in plastic wrap and refrigerate for at least 12 hours
Step 5
12 hours later, grease a rectangular pan with a generous amount of olive oil
Step 6
Grease a rectangular pan with a generous amount of olive oil
Step 7
With your greased hands, deflate the dough and gather it together to form a ball and place it in the centre of the rectangular pan
Let the dough rest (and spread) to cover the whole surface of the pan and cover with a kitchen towel or plastic wrap. The process of rising can take anywhere between 3 to 4 hours at room temperature
Step 8
Pre heat the oven to 220°C 
Step 9
Now that the dough has spread over the pan, grease your hands, add some olive oil to the dough and spread throughout using your hands
Here comes the fun part, make dimples into the dough by using all your fingers and pressing them into the dough
Step 10
Sprinkle with rock sea salt (be generous) and some fresh Rosemary
Bake for 25-30 minutes, making sure the sides of the bread are becoming golden and crisp
Step 11
Remove the pan from the oven and transfer the Focaccia onto a wire rack to cool before cutting and serving
Best enjoyed with some fresh local olive oil 🙂
Did you know that ?
The word Focaccia is derived from the Latin focus meaning "hearth, place for baking". The basic recipe is thought by some to have originated with the Etruscans, but today it is widely associated with Ligurian cuisine.
Focaccia bread can be eaten as it is. It can be cut into a variety of shapes, including squares, long skinny rectangles, triangles. Because it is pretty thick, focaccia can be sliced in half and used for making sandwiches. It's also a tasty addition to a bread basket or an accompaniment to a bowl of soup or a salad
Share this recipe with a friend