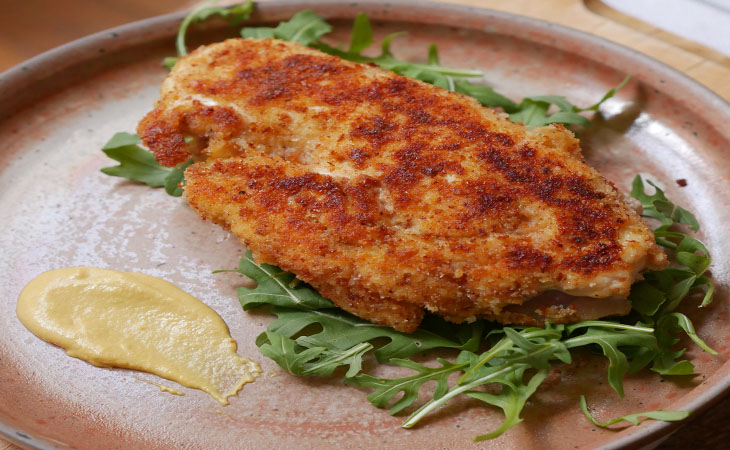 Is it dinnertime already?! Traveling to Switzerland for this traditional, crunchy, oh so savoury Cordon-bleu, super easy recipe here below!
Ingredients
2 skinless, boneless chicken breasts
2 slices of cured ham (or ham shoulder)
30gr of emmental cheese (or other meltable cheese)
1/4 cup flour
1/4 cup bread crumbs
1 egg
Coconut oil
Salt & pepper
How to Make It
Step 1
Clean the chicken breasts and flatten them out, I use a sharp knife to thin out the breasts into a large thin slice
Step 2
Add 1 slice of ham and some grated cheese and fold
I sometimes seal the two ends of the chicken breast with a toothpick, this will prevent the filling from spilling out while cooking
Step 3
Prepare 3 separate shallow bowls, beat the egg in one of the bowls, into the 2nd bowl add and
season the flour with salt and pepper, and add the crumbs into the 3rd bowl

Step 4
Roll the stuffed chicken breasts, separately, in the seasoned flour mix
Then roll them into the egg batter
And finally coat with the bread crumbs
For a thicker layer of crunch repeat the last 3 steps one more time
Step 5
Into a hot skillet add 2 tbs coconut oil and pan fry the chicken breasts until cooked, golden and crunchy on both sides, about 10- 15 minutes
Music by Bensounds
Did you know:
The phrase "Cordon Bleu" means "Blue Ribbon" when referring to the dish.
Another use of the phrase "Cordon Bleu" comes from a distinguished order of sixteenth-century French knights, who apparently wore blue sashes and were therefore popularly referred to as the "Cordon-bleus."
Cordon bleu is a very popular international dish with Swiss origins.The dish did not originate at any of the prestigious Cordon Bleu cooking schools of Europe as often thought. It is not exactly clear who was the first person to prepare and name the dish chicken cordon bleu. The first mention of cordon bleu is found in a cookbook from 1949.
Sources: TasteAtlas & Foodimentary
Share this recipe with a friend