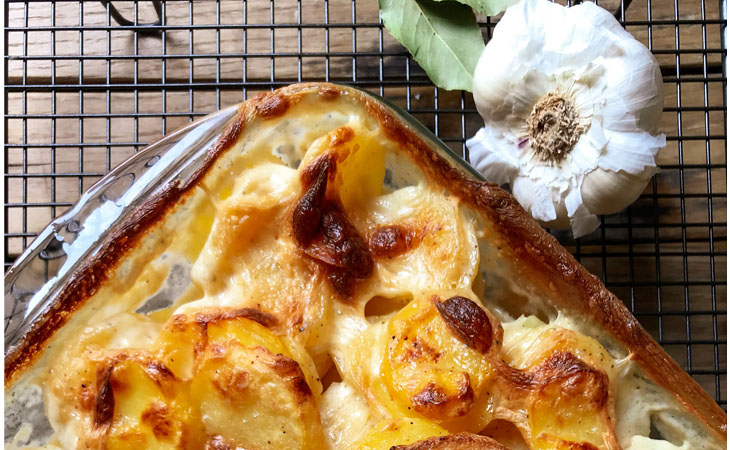 Gratin Dauphinois is one iconic French recipe. It is made with thinly sliced raw potatoes, milk, cream and sometimes Gruyère cheese cooked in a buttered dish rubbed with garlic.
Very recently, Petite Cheffe's brother put her up to the challenge to make this creamy, buttery dish, saying, and I quote « I bet you won't dare pull it off, it's so creamy, it's so buttery, it's so un-Petite Cheffe like » Well, here you go, as a birthday gift from me to you, the creamiest, most delicious Gratin Dauphinois! With much love, a very Happy Birthday to you Nadim <3
Ingredients
1,5kg organic potatoes
40cl milk
40cl full fat cream
2 cloves of garlic
A few bay leaves
30g butter
1 tsp nutmeg
Salt & pepper
How to Make It
Step 1
Wash and peel the potatoes.
Step 2
Slice the potatoes. The slices should be about 0.5cm wide
*It is important not to wash the potatoes once they have been sliced as the starch in the potatoes plays a major role in the success of this recipe
Step 3
Over medium heat, bring the milk, cream, spices and a grated garlic clove to a simmer
Step 4
Add the potato slices and cook over medium heat for about 10 minutes
*I used a strainer, making it much easier to drop in and remove the potatoes
Step 5
Rub a rectangular plate with the remaining garlic clove 
Add the chunks of butter, spread around the plate
Step 6
Add the sliced potatoes then pour in the milk and cream mixture
Step 7
Bake for 1 hour
You know your dish is read when you stick a sharp blade into a potato, if the knife comes out easily, your potatoes are done
Enjoy hot out of the oven
Note that this recipe does not require grated cheese, as this is the ultimate traditional recipe!
Fun facts:
Gratin dauphinois is a French dish of sliced potatoes baked in milk or cream, from the Dauphiné region in south-eastern France. There are many variants of the name of the dish, including pommes de terre dauphinoise, potatoes à la dauphinoise and gratin de pommes à la dauphinoise
The first mention of the dish is from 12 July 1788. It was served with ortolans at a dinner given by Charles-Henri, Duke of Clermont-Tonnerre and Lieutenant-general of the Dauphiné, for the municipal officials of the town of Gap, now in the département of Hautes-Alpes
Some purists insist that a gratin dauphinois must not include cheese, which would make it a gratin savoyard. Nonetheless, recipes given by many chefs including Auguste Escoffier, Austin de Croze, Robert Carrier, and Constance Spry call for cheese and eggs.
Source: Wikipedia
Share this recipe with a friend