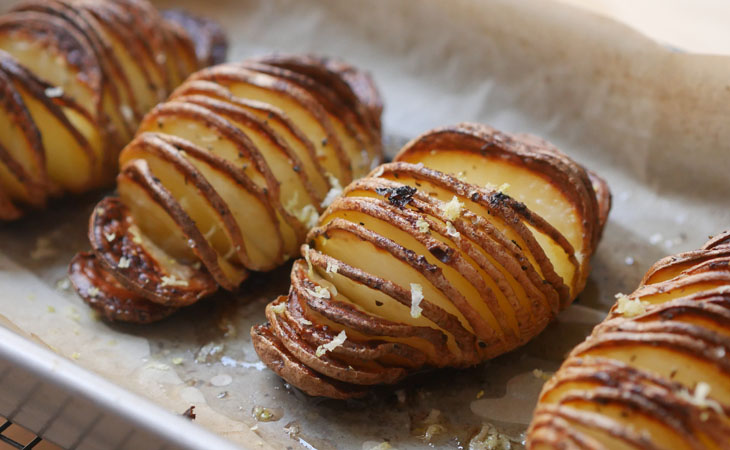 Hasselback Potatoes or Hasselbackspotatis in Swedish, are a type of baked potato, where they are cut about halfway through into thin fan-like slices. They are most often served with the main course, but can also be adapted into a side dish or canapés. This swedish recipe is a crowd pleaser! So easy, not too quick (i'm afraid) but oh so crunchy and savory all at the same time! Enjoy as a main course, with a side of greek yogurt, for a healthy, light dinner.
Ingredients
4 medium organic potatoes
3 tbs Olive oil
Dried Oregano
Salt & Pepper
20g butter
Zest of 1/2 lemon
How to Make It
Step 1
Scrub the potatoes, if they are organic there is no need to peel them
Step 2
Using a pair of chopsticks place one potato at a time on top of them and cut thin slices, stopping at the chopsticks. This will prevent you from cutting through the potato.
Step 3
Prepare the marinade by adding 3 tbs of olive oil, salt & pepper and dried oregano
Step 4
Place the potatoes in an oven tray
Brush the potatoes with the marinade. Make sure you brush within the layers as well
Step 5
Bake at 200°C for 30 minutes
Remove from the oven, drizzle with some olive oil and season with some rock salt
Bake for another 45 minutes
Enjoy warm and crispy
Nutritional Info: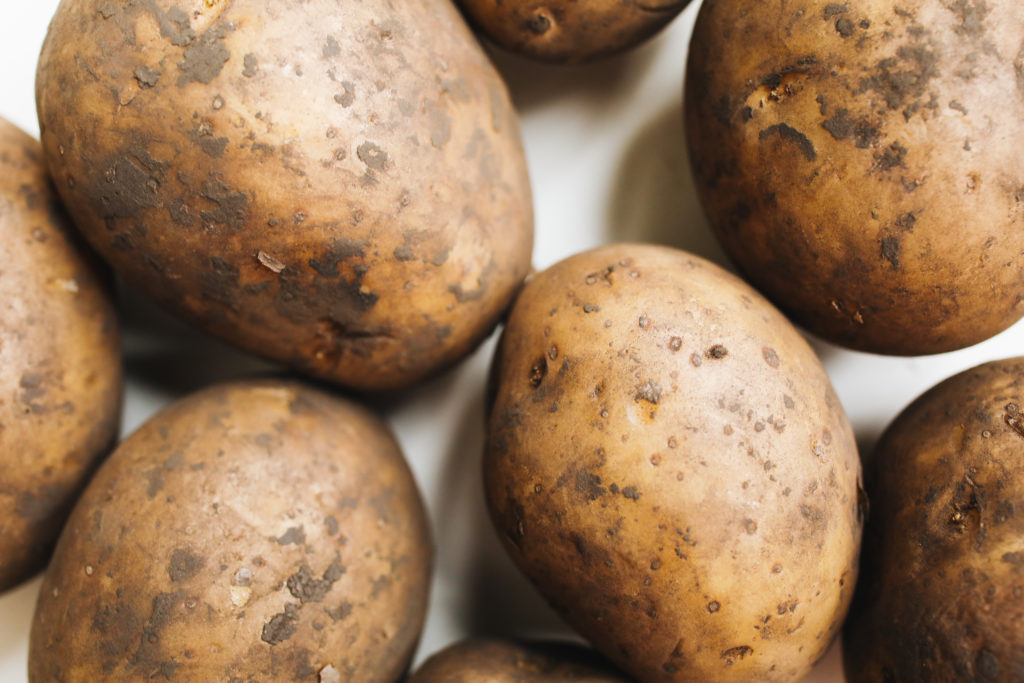 Did you know potatoes contain zero cholesterol? That's right, potatoes have no cholesterol. It is only the oil and cholesterol laden ingredients it is cooked with that makes it a threat to the heart. Potatoes, in fact, could do wonders for your heart with its heart healing antioxidant anthocyanins. They also contain fiber, potassium, and vitamins C and B6 – all of which are great for heart health.Potatoes are an excellent source of vitamin C, Potassium, fibre, B vitamins copper, tryptophan, manganese and even lutein, notes the book 'Healing Foods' by DK Publishing. It also works wonders for curbing inflammation in the body and boost immunity and healthy blood circulation. potatoes soothe stomach and duodenum ulcers and reduce stomach acidity. They may also relieve the inflammation associated with arthritis." Add potatoes to your diet, but, remember that eating anything in excess is harmful. Moderation is the key! potatoes can help ensure healthy BP. Now that doesn't mean you start noshing into greasy French fries, chips and all the processed junk. The consequences of munching into the junk will take its toll on your heart, but that doesn't mean you need to eliminate potatoes from your diet right away. Potatoes, especially its white flesh, is rich with tryptophan, an amino acid with natural sedative properties that helps calm the nerves. L-tryptophan is an amino acid. L-tryptophan is called an essential amino acid as our body can't make it naturally. It must be acquired from food like potatoes. The high fibre content of potatoes aids smoother digestion and the tryptophan, which is naturally found in potatoes, is a natural sedative that ensures good sleep. Also, the potassium in potatoes acts as a muscle relaxant, which further ensures a more restful sleep and relaxation.
Source: NDTV Food
Share this recipe with a friend