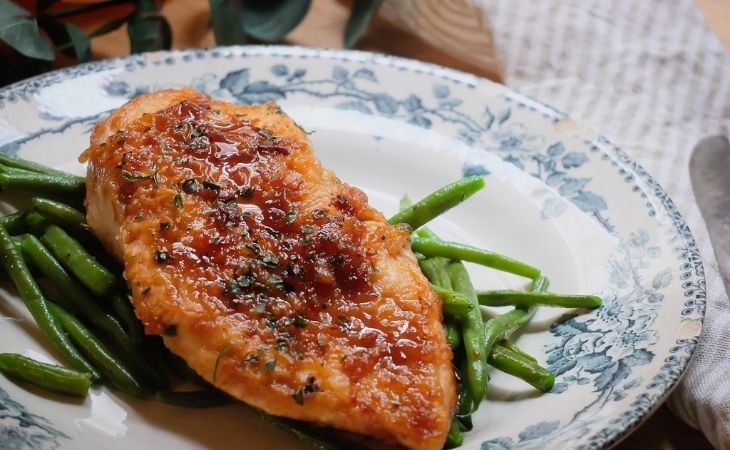 Aren't we all on the look out for a tasty, easy recipe to make on the go? Chicken breasts are very commonly consumed, easy to prepare for a healthy salad or meal, but very often do we complain about the dryness of the breasts, specially when pan fried. This tasty recipe not only shows you the trick to preserving the moisture but also comes with a delicious asian inspired sauce! If you're into the sweet and sour flavours you are going to love today's recipe! Enjoy it with a side of your favourite crunchy greens. I made mine with a side of green beans and i am telling you, the combo is oh so good! 
Ingredients
2 chicken breasts
1/4 cup flour
50g butter
2 garlic cloves
2 tbs Cider vinegar
1 tbs Soy sauce
1/3 cup honey
Dried coriander for garnish
How to Make It
Step 1
Start by halving your chicken breasts lengthwise
Step 2
Coat each half in some flour
Step 3
Into a skillet melt some coconut butter then place the flour coated chicken breast and cook for a couple of minutes before filliping them on the other side
Step 4
Set the breasts aside, and into the same skillet melt the butter and add the crushed garlic and stir for a couple of minutes
Step 5
Add the honey and stir well before deglazing with the cider vinegar and soy sauce
Step 6
Place the chicken breast back into the skillet and cook through on both sides, allowing the sauce to thicken and reduce
Step 7
Garnish with some fresh or dried coriander 
Serve with a side of your favorite greens
Did you know:
Why do we coat chicken in flour before cooking? Coating the chicken breasts in flour mainly prevents the chicken from sticking to the pan. But what it also does is preserve the moisture in the chicken, and don't we usually complain about chicken breasts being too dry and never can they compete with the moist, tasty drumsticks? Well then, you needn't complain about that anymore! Coat your chicken in flour before pan frying them to also add that delicious crunch to every bite! And here's a well kept secret, why not season your flour with your favourite spices before coating your chicken, this will add that extra yumminess to your chicken!
Share this recipe with a friend