Kaak & Maamoul كعك ومعمول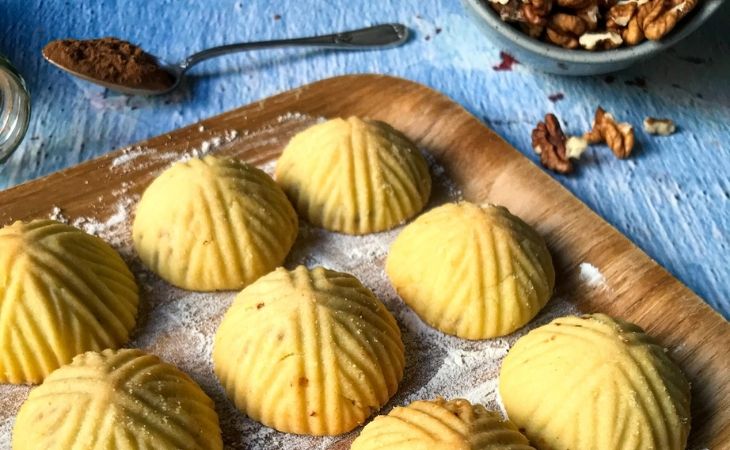 The festive season sure is upon us, with both Easter and Eid approaching, what better dessert to learn how to make than deliciously fragrant Maamoul cookies. Those shortcrust pastries, filled with dates or nuts are a family tradition when preparing for Easter and Eid. I never thought of making them on my own, but luckily my friend Rana, also Paris based, put me up to the challenge. The minute I started pouring the orange blossom water onto my dough, the smell of Home filled my heart with joy. I was immediately transported back to our sunny living room in Amman, to the smell of freshly brewed Arabic coffee filling the room and to the sound of my mom and aunts' chatting.
This is what I love about our cuisine; it's not only about the recipe, it's about the company and about sharing the love and keeping up with our traditions. Thank you Rana for your brilliant idea! Not only were the Maamouls delicious, they managed to bring a taste of home to both of us here in Paris!
Here's how our moms make this traditional recipe. Try them out and enjoy them this festive season.
And as we say in Arabic, Sahtein ,  صحتين وكل سنة وانتو سالمين * 
*Bon appétit and Happy Easter/Eid
Ingredients
1kg Semolina 
400g Butter
1/2tsp dry active Yeast
1 cup lukewarm Water (or more)
2tbs Orange Blossom (Rana likes mixing orang blossom and rose water)
For the Walnut filling:
250g Walnuts
Cinnamon
Nutmeg
Sugar syrup (1 cup Sugar + 1/2 cup Water + a couple of Lemon drops)
For the Date filling:
250g Dates (paste)
Olive Oil
Cinnamon
Nutmeg
How to Make It
Step 1
Start by pouring the Semolina into a large bowl
Step 2
Melt the butter 
Step 3
Add the melted Butter to the Semolina and mix well, use your hands to evenly incorporate
Step 4
Cover and set aside in a cool place for 24 hours (do not refrigerate)
Step 5
The next day, add the Yeast and Water and mix with your hands again, you might need to add more water depending on the type of Semolina you are using until a dough forms.  If the dough is dry, gradually add more water until you reach the desired consistency (as shown in the video)
Cover and set aside for an hour, you may prepare the fillings during this time
Step 6
For the Walnut filling, place the ingredients into a blender and wizz to a medium sized blend
add the spices to taste (about 1 tsp of each cinnamon and nutmeg)
add in the sugar syrup (again to taste)
As for the Date filling, add 1 tbs olive oil, the spices (to taste) and mix together using your fingers
Step 7
Shape equal sized balls of dough and set aside
Using your fingers, shape each ball into a semi sphere
Step 8
Add your choice of filling into the sphere, then gather the dough around it to form a ball
Step 9
Place the stuffed ball into your mold, press lightly 
Flip the mold onto a hard surface to release the Maamoul 
Step 10
Place the Maamouls on a baking tray
Bake at 180°C until just golden in colour (about 16-18 minutes depending on your oven)
You could sprinkle some icing sugar once the Maamouls have cooled down, then serve
To store, seal the Maamouls in an airtight container to prevent them from drying out
Share this recipe with a friend