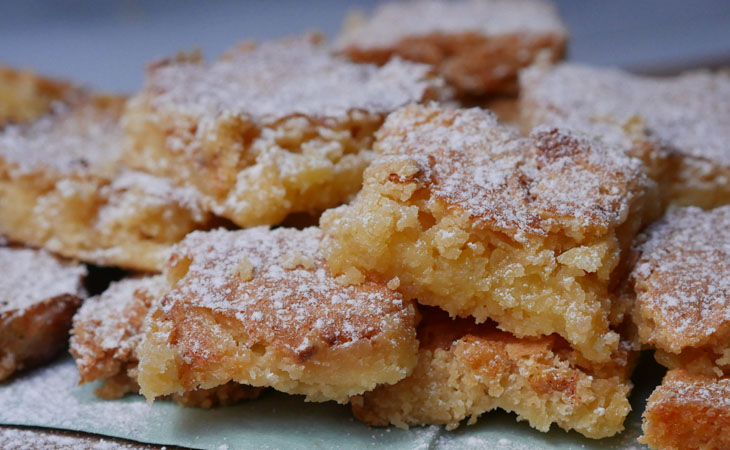 Lemons squares are such crowd pleasers! And the good news is, they are oh so easy to make! My only issue with this recipe is the amount of sugar that goes into it. I never hesitate to use less sugar, and I invite you to do the same! How-to Wednesdays taste so much sweeter when they're about learning how to make delicious, zingy Lemon Squares!
Ingredients
For the crust:
1 cup flour
1/2 cup butter
1/4 powder sugar
For the lemon curd
1 cup sugar
2 tsp lemon zest
2tbs lemon juice
1/2 tsp baking powder
1/4 tsp salt
2 eggs
Powder sugar (for dusting) optional
How to Make It
Step 1
Pre heat the oven to 175°C
Step 2
Mix the flour and sugar and rub the cubed butter into the flour mix until a dough is formed
Step 3
Press the dough into a square oven pan and bake for 20 minutes
Step 4
In the meantime, mix the sugar, lemon zest, lemon juice baking powder, salt and the eggs until smooth
Step 5
Pour the lemon mix onto the pre baked crust and bake for a further 25 minutes
Step 6
Set aside to cool before cutting into square
Step 7
Sprinkle with icing sugar (optional)
Reserve in the fridge for a crunchier bite
Fun Fact:
Shortbread originated in Scotland, with the first printed recipe, in 1736, from a Scotswoman named Mrs McLintock. Shortbread resulted from medieval biscuit bread, which was a twice-baked, enriched bread roll dusted with sugar and spices and hardened into a hard, dry, sweetened biscuit called a rusk. Eventually, yeast from the original rusk recipe was replaced by butter, which was becoming more of a staple in Britain and Ireland.
Although shortbread was prepared during much of the 12th century, the refinement of shortbread is credited to Mary, Queen of Scots in the 16th century. This type of shortbread was baked, cut into triangular wedges, and flavored with caraway seeds.
Shortbread was expensive and reserved as a luxury for special occasions such as Christmas, Hogmanay (Scottish New Year's Eve), and weddings. In Shetland, it is traditional to break a decorated shortbread cake over the head of a new bride on the entrance of her new house
Source: Wikipedia
Share this recipe with a friend