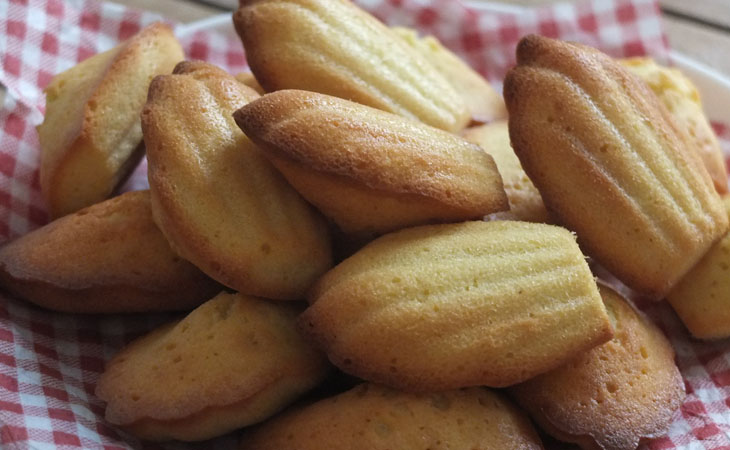 If you've ever been to France you know exactly what this tiny, bite size sponge like cake, delicacy tastes like! Tons of different recipes exist out there but I specifically picked out a simple one, with the least amount of sugar 🙂 I do have a recommendation though, once you've had them baked store them immediately in a zip lock back or an air tight Tupperware, this will prevent them from going dry too quickly. Or, just do what I did, dive into the whole batch with a bunch of friends straight out of the oven! Major Yum!
Ingredients
115g unsalted butter
2 large free range eggs
100g sugar
1 tsp vanilla 
Zest of 1 organic lemon
115g sifted flour
1/2 tsp baking powder
Dash of salt
1 tsp almond extract
How to Make It
Step 1
Melt the butter and set aside to cool
Step 2
Whisk the eggs, sugar and vanilla for 5 minutes, the batter should be firm and pale
Step 3
Grate lemon and add the zest to the batter
Step 4
Sift in the flour and the baking powder and, using a spatula or wooden spoon, gently fold into egg mixture. Careful not to over work the batter
Stir in the melted cooled butter. It will take a minute to fully incorporate.
Add the dash of salt and the tsp of almond extract and give that a final stir
Step 5
Cover the bowl and refrigerate for at least 2 hours
Step 6
In the meantime, using a pastry brush, lightly brush the Madeleine tray with butter (I didn't need to as I was using non stick silicone trays)
The batter will be quite airy and spongey after resting. This is good! Do not try to deflate it. Pipe the batter into each shell shaped mould, about 90% full. If you do not have a piping bag, simply spoon one generous tablespoon of batter into the center of each scalloped well. No need to spread it to the edges. Just plop it in the center.
Step 7
Bake for 10-12 minutes. The madeleines are done when the tops spring back after lightly pressed with your finger. Invert the pan onto the counter. Transfer the warm madeleines to a wire rack to lightly cool.
Cover and refrigerate remaining batter if you do not have 2 madeleine pans to bake the batter all at once.
Fun Fact:
 Madeleine or petite madeleine is a traditional small cake from Commercy and Liverdun, two communes of the Lorraine region in northeastern France.
Madeleines are very small sponge cakes with a distinctive shell-like shape acquired from being baked in pans with shell-shaped depressions. Aside from the traditional moulded pan, commonly found in stores specialising in kitchen equipment and even hardware stores, no special tools are required to make madeleines.
A génoise cake batter is used. The flavour is similar to, but somewhat lighter than, sponge cake. Traditional recipes include very finely ground nuts, usually almonds. A variation uses lemon zest for a pronounced lemony taste.
Source: Wikipedia
The French expression "A madeleine de Proust" is an expression used to describe smells, tastes, sounds or any sensations reminding you of your childhood or simply bringing back emotional memories from a long time ago.
Source: The Local fr
Share this recipe with a friend