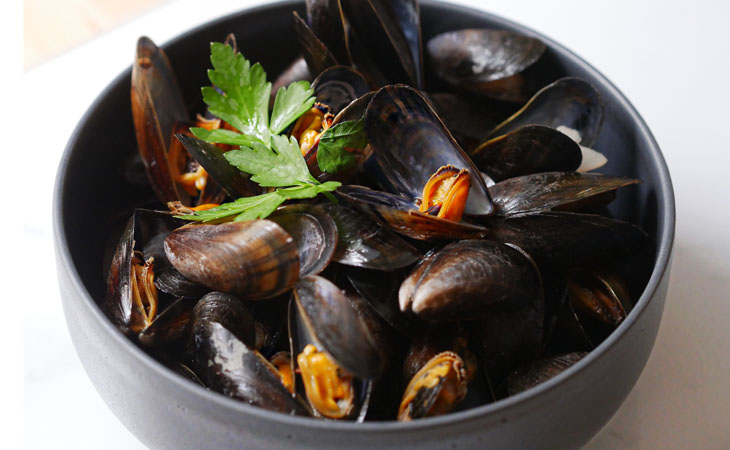 It's the weekend!! And yesterday, you all voted for a Fishy recipe! So here it is! Mussels are so delicious and also super easy and quick to make. Make sure you buy them from your fishmonger. A very important thing to know when making mussels, the ones that do not completely close up when you wash them, discard of them, and the ones that, once cooked do not open up, discard of them as well. Other than that, enjoy them with a glass of dry white wine and thank me later 🙂
Ingredients
For 2 persons
1,8kg mussels
20cl dry white wine
25g butter
2 shallots
1 thyme twig
Parsley for garnish
How to Make It
Step 1
Wash the mussels in clear water several times and tear out seaweed if present
Step 2
Scrub mussels well to remove any barnacles and Check that all mussels are closed, if not, discard of open ones 
Step 3
Into a large pot, melt the butter, add the chopped shallots and thyme twig and cook for a couple of minutes. Deglaze with dry white wine, option to replace the wine with some low sodium vegetable stock
Step 4
Add the mussels, cover the pot and cook for about 5 minutes
Step 5
Remove the lid, add some fresh parsley, toss the mussels around, cover and cook for an additional 10 minutes
Step 6
Serve hot and discard immediately any shells that have not opened up
Did you know:
You may have seen mussels growing from a pier, jetty, or dock. Their black shell is hard and, in the wild, they grow in clusters. Mussels are easy to farm and great to eat. But did you know that they also contribute in cleaning the water. Mussels are filter-feeders, which means that they feed by collecting tiny organisms from the water. So they clean and filter the water as they eat.
Farmers collect baby mussel seed on ropes near the shore. The seed goes into a sock around a long rope. On the water, the sock with the rope is connected to buoys, dropped into the water, and left to grow in the ocean for at least a year.
A small farm with 12 long lines can produce up to 81 Tonnes of mussels each year. Farming mussels on rafts and on the bottom is hard work, muddy, and messy.
Source: Ocean Today
Share this recipe with a friend