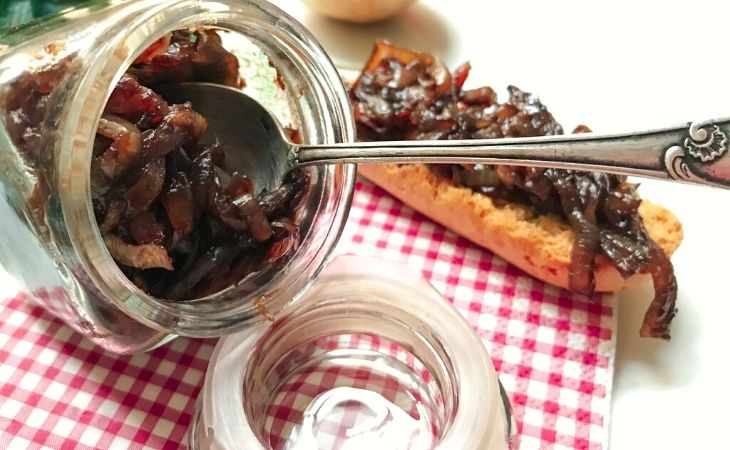 Onions are in season and I've had this idea on my list for the longest time: to make my very own Chutney! That spicy south Asian condiment that you can enjoy with almost everything? Yup, that's the one! Usually made from fruit or vegetable with some sugar and vinegar, this condiment is the cherry on top when making your own homemade burgers! Forget about the highly sweetened store bought ketchup, try this Chutney recipe out and thank me later!
Why not check out last week's recipe to learn more about making your own Burger Buns at home!! Link in Bio!
And stay tuned for next week's recipe telling you more about making your own Chicken Burger Patty! Stay tuned!
Ingredients
4 large onions (I used yellow onions)
30 G Butter
1 TBS Sugar
5 CL Balsamic Vinegar
How to Make It
Step 1
Peel the onions
Step 2
Thinly slice the onions into wings
Step 3
Into a medium sized pot add the butter and allow to melt on medium heat
Step 4
Add in the sliced onions and stir occasionally for about 10 minutes
Step 5
Add the sugar and stir before the onions start to stick to the bottom of the pot. Allow the onions to lightly caramelize
Step 6
Deglaze with the Balsamic vinegar, once the condiment starts to boil, lower the heat and leave to simmer for 20 minutes (or until the vinegar has completely dried up)
Step 7
Set aside to cool before enjoying it with your homemade burger or storing for later use in a pre sterilized jar
Bon appétit 🙂
Did you know that ?
The word Chutney or chāṭnā means "to lick" or "to eat with appetite"
The recipe originated 500BC in Southern Asia. A very common condiment in India, where this preparation is made from fruit or vegetable, sugar and vinegar. 
Fun Fact:
If your eyes well up while chopping onions you are far from alone in this situation! A proverb in the middle east says if you cry while chopping onions you are known to fear your mother in law! But here are several hacks to make this process easier on your eyes:
Use a sharp knife to cut the onion—you'll release less of the enzymes into the air.
Cut onions in cold water.
Cut the root last—it has a higher concentration of enzymes.
Chill or freeze onions to minimize the amount of gas released into the air.
Light a match before you peel or slice the onion.
Share this recipe with a friend