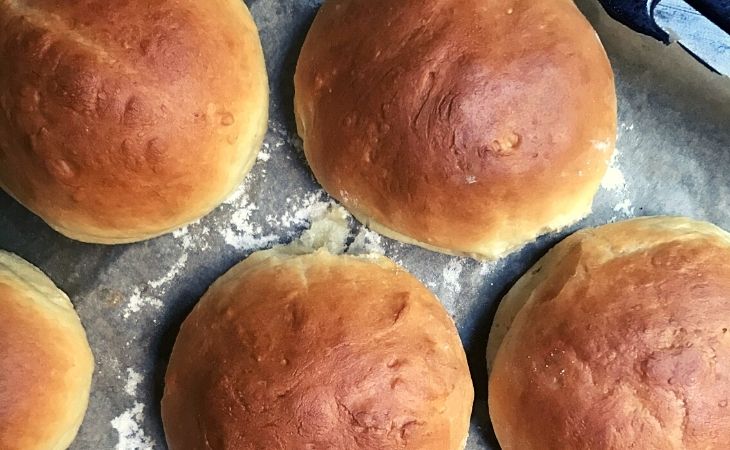 Burgers are making a come back!! Not only are the in ample supply in all the fast food outlets, they are also very present on gastronomical menues all over Paris!
A fan of burgers myself, but most importantly, a fan of everything labeled "homemade", I ventured into making my buns at home! And my oh my does that make all the difference! Follow my step by step recipe to enjoy those buns! I promise you, you will never taste yummier burgers!
Ingredients
400g Flour
1 tsp salt
30g Sugar
100g cooked, peeled and mashed potatoes
2 Egg yolks
7g dry active Yeast
120g warm Water
100g warm Milk
80g soft Butter
How to Make It
Step 1
Start by adding the yeast to the milk and set aside
Step 2
Into a mixer add the flour, sugar and salt and mix together
Step 3
Add in the mashed potatoes and blend
Step 4
As you continue to blend, add the egg yolks
Step 5
Add the milk and yeast preparation and the water as you continue to mix together
Step 6
As the dough is kneading, gradually add in the softened butter chunks, one at a time, then knead the dough for a good 5 minutes
Step 7
Transfer the dough into a lightly oiled bowl, cover with plastic film and leave to rise for at least 1 hour (I leave mine for a good 2 hours)
Step 8
Two hours later, dust a clean kitchen surface with some flour and drop the dough onto it
Now onto rolling the buns:
Step 9
First, pre heat the oven to 180°C
Step 10
Divide the dough into 8 equal parts. To form the buns, you will need to first fold in the sides to form a bun shape, then roll each bun under the palm of your hand until the surface becomes soft and well rounded throughout
Step 11
Place the buns onto an oven tray, lined with parchment paper, dust with some flour then cover with a clean kitchen towel and leave to rise for a further 90 minutes
Step 12
Brush the buns with an egg wash (I made mine by whisking an egg and 1 tbs of water)
Step 13
Bake the buns for 25 minutes
You know your buns are perfectly fluffy when you touch them down and they bounce right back up 🙂
Did you know that ?
Potato buns are made with…  potatoes! For this recipe, I boiled cubed potatoes for 10 minutes, until they were tender when stuck with a fork. Then I mashed them and added the mashed potatoes.
The potatoes mix seamlessly into the dough and you would barely notice they are in the recipe at all. 
The butter and eggs in this recipe are similar ingredients to what you find in an enriched dough recipe, like brioche. They add flavor and richness to the dough, and help to make the buns soft and oh so fluffy. Having tried a recipe without the potatoes, I found this one super airy, making my burgers extremely delicious! 
Share this recipe with a friend