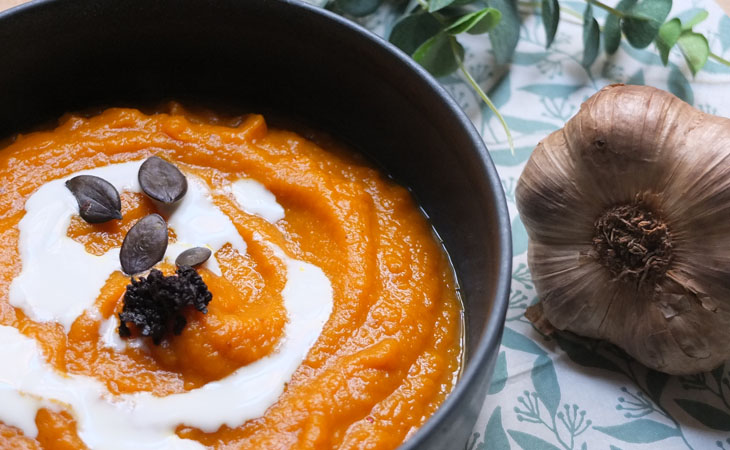 Happy Monday, post Holloween weekend, and pumpkins are still in full bloom! Showcasing two delicious products in today's healthy, vegetarian, vegan friendly recipe. The Kabocha pumpkin, with it's deliciously nutty flavored edible skin, and the black garlic!! A delicacy known to very few! Enjoy this heartwarming soup as the days grow shorter and the nights become cooler! Scroll down for more information about how Black Garlic is made! But for now, here's how to make this yummy soup!
Ingredients
1 kabocha Pumpkin 
3 medium sized carrots
1 L (or more) vegetable stock
Fresh cream
Pumpkin seeds
Black garlic (optional)
How to Make It
Step 1
Start by cutting your pumpkin in half then deseed it (there's no need to peel the Kabocha pumkin, it adds a nice nutty flavour!)
Step 2
Peel and chop your carrots
Step 3
Cut the pumpkin into slices then into quarters. There's no need to peel this type of pumpkin as the skin is edible and add a nice nutty taste to your soup when roasted
Step 4
Place the chopped vegetables onto an oven tray, and bake for 40 minutes at 200°C 
Step 5
Once the vegetables are roasted add them to a large pot
Step 6
Add the vegetable stock and bring to a boil
Step 7
Using a hand blender, blend and bring the soup to your desired consistency (for a runnier texture add some more stock)
Step 8
Serve the soup in bowls, and add a drizzle of fresh cream, a few pumpkin seeds and a pinch of black garlic shavings
Enjoy hot!
What exactly is Black Garlic?
Black garlic is made when heads of garlic are aged under specialized conditions of heat and humidity. Bulbs are kept in a humidity-controlled environment from 80 to 90% at temperatures that range from 60 to 90 °C (140 to 190 °F) for 15 to 90 days (typically 85%, 70 °C, 40 days). There are no additives, preservatives, or burning of any kind. The enzymes that give fresh garlic its sharpness break down. Those conditions are thought to facilitate the Maillard reaction, the chemical process that produces new flavour compounds responsible for the deep taste of seared meat and fried onions. The cloves turn black and develop a sticky date-like texture.
Black garlic can be eaten alone, on bread, or used in soups, sauces, crushed into a mayonnaise or simply tossed into a vegetable dish. A vinaigrette can be made with black garlic, sherry vinegar, soy, a neutral oil, and Dijon mustard. Its softness increases with water content.
Share this recipe with a friend