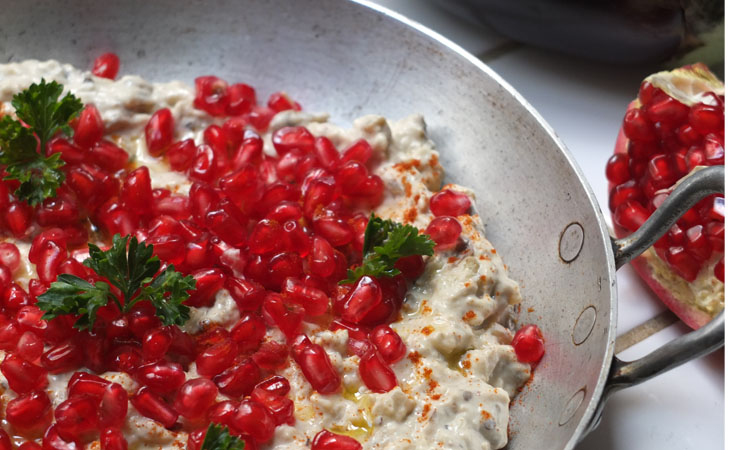 Mutabbal is a popular appetizer from the Levantine. It is made of mashed cooked and scorched eggplant, mixed with tahini (made from sesame seeds), olive oil, lemon juice, and garlic. What makes a homemade Mutabbal unique is how you cook the aubergines. To get the smokey flavor out you must scorch the eggplant. You either do that by directly placing the aubergines over a gas flame (you must be watching it at all times) The charred skin will give that extra dimension to your Mutabbal. If, on the other hand, you do not have a gas stove, simply bake the aubergine in the oven and towards the end of the cooking time place the aubergine beneath the grill and leave to braise for a couple of minutes. The more you dare to "burn" the skin, the smokier your Mutabbal will be! Don't forget to enjoy your Mutabbal with some homemade Pita bread. Recipe coming soon 🙂
Ingredients
1 medium aubergine
1 garlic clove
Juice of 1 lemon
2 tbs greek yogurt
2 tbs Tahini
Salt & pepper
Paprika (optional)
Olive oil
Pomegranate seeds
Parsley
How to Make It
Step 1
Squeeze the lemon. Crush the garlic clove (after having degermed it) and add to the freshly squeezed lemon. Set aside for late
Step 2
Wash and pierce the aubergines
Step 3
Cook the aubergine over a gas flame until you see the scorch all over. If, on the other hand, you don't have a gas stove, you can simply bake the aubergines: place it in a baking tray, drizzle them with olive oil and some rock salt and bake in a pre-heated oven to its highest setting until it is charred (about 30 minutes)
It is important to scorch the aubergine to get the smokey flavor
Step 4
Once the aubergine is soft and charred, cut it in half and scoop out the flesh
Chop the flesh into small pieces
Step 5
Drop the chopped aubergine into a bowl, add the lemon & garlic mix, the greek yogurt, Tahini and season with salt and pepper and mix together. It is also optional to add a sprinkle of paprika (to taste) 
Step 6
Onto plating: Pour the Mutabbal into a serving plate, add the pomegranate seeds, garnish with some parsley leaves and a drizzle of olive oil
Enjoy with some pita bread
Did you know that ?
The origin of the word Mutabbal is the Arabic verb "tabala", literally meaning 'to add additional flavors and spices'.
Eggplant or aubergine is a species of nightshade grown for its edible fruit.
Botanically, eggplant is a berry, just like blueberries, watermelon, or tomatoes. In botany, a berry is a fruit in which the entire ovary wall ripens into an edible, relatively soft pericarp.
The fruit is capable of absorbing large amounts of cooking fats and sauces, making for very rich dishes, but salting reduces the amount of oil absorbed. So make sure you salt your aubergine slices and leaving them to rest and release their liquid before deep frying them for example.
Eggplant is a very good source of dietary fiber, vitamin B1 and copper. It is a good source of manganese, vitamin B6, niacin, potassium, folate and vitamin K. Eggplant also contains phytonutrients such as nasunin and chlorogenic acid.
Source: JustFunFacts
Share this recipe with a friend