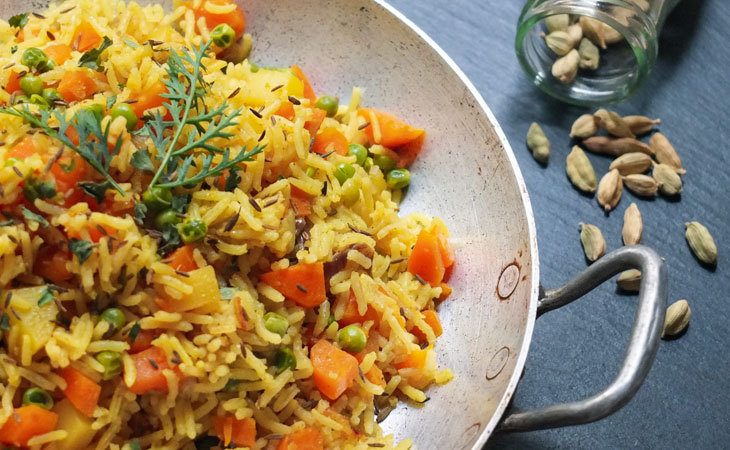 Biryani has been satiating hunger for centuries! Although thought of as an Indian dish, most research shows that originally, the dish is from Persia! Very often served with meat, yet the vegetarian version of it is as delicious if not even yummier! I just love the colours and the mixture of textures in this dish. Aside from the fact that it is a very healthy dish, the variety of spices incorporated in this recipe makes it delicious and beneficial for your health. Cardamon is one of the main constituents of this recipe and did you know that cardamom can cure coughs and colds? It also aids in digestion! Delve into this recipe with no delay to enjoy its taste and its health benefits! 
Ingredients
1tbs coconut oil
1 onion
2 garlic cloves
2 tbs fresh ginger
6 cardamom cloves
1 tsp curcuma
1 tsp ground cumin
2 carrots (diced)
2 potatoes (diced)
1 sweet potato (diced)
125g frozen peas
300g basmati rice
Cumin seeds for garnish
Salt & pepper
How to Make It
Step 1
Add coconut oil to a large pot over medium heat
Step 2
Add the sliced onion, crushed garlic cloves, ginger and the spices; cardamom cloves, curcuma and ground cumin. Mix and cook for 2 minutes
Step 3
Add the cubed carrots, potatoes and sweet potatoes and mix together
Step 4
Add 25ml of water. Cover and cook for 15 minutes on low heat (until vegetables soften)
Step 5
Add the frozen peas and basmati rice and 50cl of hot water, season with salt and pepper and bring to a boil
Cover and cook over low heat for 10 minutes
Step 6
Turn off the heat and let the dish rest for 10 minutes
Step 7
Uncover and separates the rice grain using a fork. Serve hot, garnish with some cumin seeds. 
Serve with a bowl of plain yogurt
Spice Facts: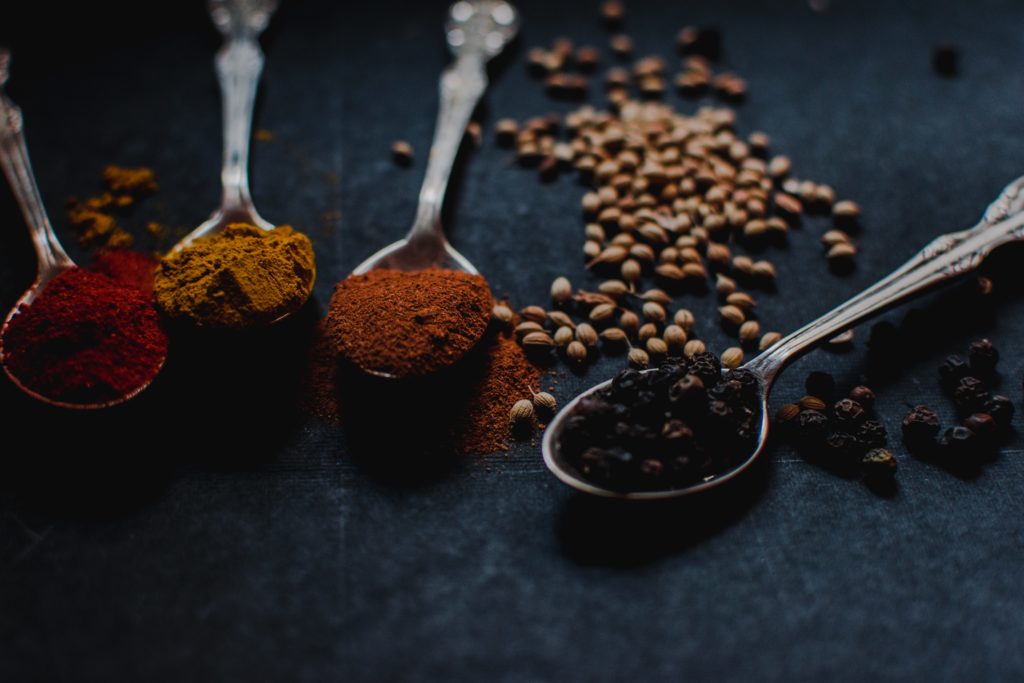 Adding spices to a dish not only enhances its flavor but can also be very beneficial for your health, here are a few health benefits related to the spices I used in this particular recipe:
Curcuma (Turmeric):
Turmeric, and especially its most active compound curcumin, have many scientifically-proven health benefits, such as the potential to preventing heart disease, Alzheimer's and cancer.
It's a potent anti-inflammatory and antioxidant and may also help improve symptoms of depression and arthritis.
Cardamom:
Cardamom may be helpful for people with high blood pressure thanks to its antioxydant and diuretic properties as well as being an excellent ally when it comes to digestion and ulcers
Cumin:
Cumin also has antioxydant properties, making it a great substance to keep cancer away! It is also know to aid in weight loss. And my all time favorite, it too aids in digestion!
Share this recipe with a friend