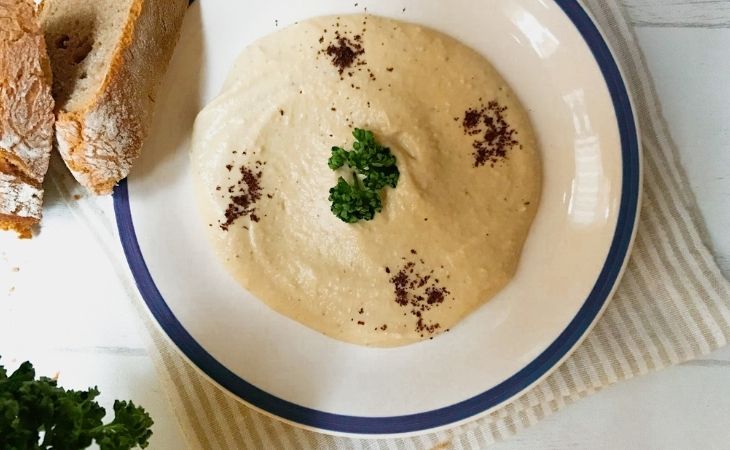 The spelling of this dish can be widely inconsistent, most populariy found under Hummos, Hommos or Hoummous, this delicious Middle Eastern dish is the star of every Mezzeh table! Traditionally made with cooked and mashed chickpeas, blended with Tahini (sesame paste), lemon and some recipes include garlic. 
As is the case with most Middle Eastern recipes, each one varies depending not only on the country it comes from but also the family that makes it! 
I am sharing with you my family recipe, and I added a well kept secret, by adding 2 ice cubes, not only will your Hummos have a smoother finish, it will also (surprisingly) make it lighter in colour! 
Enjoy this recipe with some Pita Bread, and why not try my Homemade Labaneh recipe and my Smokey Mutabbal recipe next time you organise a tapas kind of dinner!
Ingredients
1 small can Chickpeas (265g)
1 tsp Bicarbonate Soda
1 Lemon
2 tbs Tahini
2 tbs Greek Yogurt
Olive oil for garnish
Paprika for garnish
Parsley for garnish
How to Make It
Step 1
Rinse the Chickpeas, place them in a bowl with  clear water
Step 2
Add 1 tsp Bicarbonate and set aside for 10 minutes
Step 3
Squeeze 1 lemon
Step 4
Strain the Chickpeas
Step 5
Into a blender bowl add the rinsed chickpeas, lemon juice, Tahini and Yogurt and blend for about 3 minutes
Step 6
Add in the 2 ice cubes while mixing, this will ensure a smoother finish!
Step 7
Serve the Hummos in a flat plate and garnish with some olive oil, paprika and parsley
Share this recipe with a friend